Although our mouldings are steeped in traditional techniques, our customer experience is built around streamlined ordering systems and high-tech production. That includes:

»  Over 7500 cataloged profiles
»  In-house custom-ground profiles to match any design
»  All profiles guaranteed to meet or exceed AWI standards
»  CAD and PDF files available
»  Radius and elliptical mouldings
»  Most species of hardwood or softwood upon request
»  Specified lengths upon request

»  Pre-finishing and finishing on all four sides
»  Clear finishes and stained finishes
»  Interior and exterior painted finishes in any color


»  High volume capability
»  Quick lead time on custom runs
»  Shipping anywhere in the United States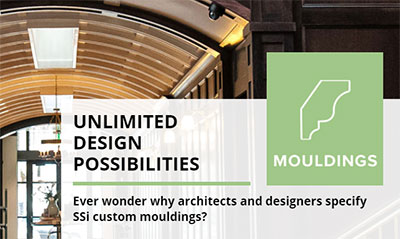 Because our name is synonymous with quality, detailed, old-world craftsmanship. Our thousands of in-house profiles are all designed to meet or exceed AWI standards and satisfy even the most critical of craftsmen.
Although our mouldings are steeped in traditional techniques, our customer experience is built around streamlined ordering systems and high-tech production. That includes:

»  Over 7500 cataloged profiles
»  In-house custom-ground profiles to match any design
»  All profiles guaranteed to meet or exceed AWI standards
»  CAD and PDF files available
»  Radius and elliptical mouldings
»  Most species of hardwood or softwood upon request
»  Specified lengths upon request

»  Pre-finishing and finishing on all four sides
»  Clear finishes and stained finishes
»  Interior and exterior painted finishes in any color

»  High volume capability
»  Quick lead time on custom runs
»  Shipping anywhere in the United States